Posted on October 19, 2020
Cameras may be classified as entry-level, mid-range, or high-end. 
While entry-level cameras are most targeted at beginner photographers, high-end cameras usually have advanced features and capabilities that are often targeted at experienced professionals. 
The Sony A6400 mirrorless camera sits in the mid-range category. It's more like a bridge between both pro users and enthusiast consumers. If you're wondering if this camera is any good for professional use, this guide will help you find your answer!
Up close with the Sony A6400 Mirrorless Camera
The A6400 is suitable for professional use, period!
It might be classified as mid-range, but this camera is not all that 'mid.' The A6400 had the "world's fastest autofocus" upon release, with 11 fps and 8fp continuous shooting with continuous AF and silent shutter, respectively. But that's not all!
It's equipped with a 24MP Exmor CMOS sensor and an incredible 425-point phase-detection AF. There's also a 2.95 inch LCD touchscreen that can be tilted 180 degrees for vlogging and selfies. Among a lot of other positives, the Sony A6400 is also capable of 4K video recording. 
Perhaps, the only issue is that the A6400 didn't ship with Sony's new Z battery. Still, the NP-FW50 battery on the A6400 is fairly substantial at 360 shots per charge. You'll probably need one, two, or more extra batteries for the best experience. 
But above everything else, this camera has an excellent image quality that will impress beginner photographers looking for a great starting camera, as well as pros looking for a capable lightweight backup camera. 
Sony A6400 Deals
The Sony A6400 currently retails for about $889 for the camera body only. With a 16–50 mm power-zoom kit lens f/3.5-5.6, you can find it for $998.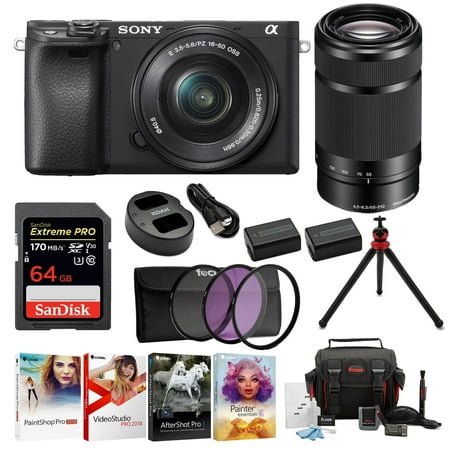 This camera is fantastic, but it's not cheap. If you're looking to get the most value on your Sony A6400 purchase, there are Sony A6400 deals out there with incredible values.
These deals are usually bundled deals with a range of useful camera accessories offered at discounted prices. If you're considering getting this camera, some of these bundle packages guarantee the best value for your money.